10 things to do in Philippines with kids
Marika & Michal, Travelers, Slovakia
We are bringing you 10 things to do – in Philippines with kids. Philippines is an island country in south east Asia. More than 7.000 islands with beautiful beaches are ready to welcome you. Prepare for white sands, hot weather and sometimes light or heavy rains, but we were lucky. We enjoyed our stay so much and our kids as well.
1. Balut (egg)
Maybe you are now trying to google what is "balut". You don´t have to. Balut is traditional philippino speciality, it is a developing bird embryo steam boiled and eaten from the shell. We are often choosing our trips based on traditional foods which we would like to try. So after cambodian spiders (you can find more details here) We chosen Philippines mainly because of baluts. All locals know balut and if necessary, they will get you one if you need. The taste is like boiled egg with liver. Our new friend – local lifeguard on the White beach Boracay – he showed us how to eat it. For sure, you will have no problems to find local person who will help you with degustation.
2. Local flight with young Philippinos
You as a traveller can not be overlooked because you travel with small children. If you plan to travel with kids, it is very hard to avoid taking pictures with monks, chinese tourists and local people…everywhere. I really mean EVERYWHERE. Your kids are cute, but for locals they are white and exotic. If you meet large group of young locals in airplane, you can expect lot of fun. Your kids will have lot of fun. And you can enjoy 2 hour flight, while in the row behind you, there is a selfie mania. And in Philippines, there really is a selfie MANIA.
Local flight fun, Philippines with kids
Somewhere between Manila and Kalibo – 30.000 feet
3. Non-touristic boat ride with locals
One of our most interesting experience in Philippines was a boat ride from Cebu to Tubigon (Bohol). All the tourists use spead boats between Cebu and Tagbilaran, we decided to use non-tourist boat to Tubigon. You travel with local people about one hour. Our kids had lot of fun looking at sleeping philippino people and during the journey we eaten 15 small packs of roasted peanuts. The best peanuts we have ever eaten.
Boat ride with locals, Philippines with kids
Cebu to Tubigon, Bohol, Philippines
4. Is it tricycle or bicycle???
After disembarkation at Tubigon pier, we saw more than 10 locals chasing us who will offer us tricycle drive to the town center. We chosen humble, sweaty middle aged man. He already took our luggage and also promised that he will give us special discount (agreed price was 10 PHP/person). We passed all tricycles and we stopped next to bicycle tricycle. Yes, rusty bicycle, which should bring all our family + 3 big luggages to the town center. But we missed something – no engine on the tricycle/bicycle.
For people heavier than 80 kg would be very difficult to use this mean of transport. The driver barely 50 kg but he drove all of us. All locals loudly laughed while we passed them on our way to the center.
He wanted to give us a discount, but after the drive we refused it and we paid some extra. It was a very good experience for us and also for our children. So if you will have a choice, go for it and use this bicycle driver. It will be maybe once in a lifetime.
Where is the engine? Philippines with kids
Tubigon pier, Bohol, Philippines
5. Football with local children
Boracay is a pretty big island. There are places, where there is a lot of tourists, and also places with no tourists. Mainly at local backyards. So after a long day spent on the beach we walked to the streets to get some icecream. We met big group of local children in school uniforms, they invited us to their homes. In a minute we stayed at their backyard with 15 roosters, 10 motorcycles and 20 children. They found a basketball and wanted to play football. You can imagine – they play football in flip-flops. Next to us, their father fed his roosters, Sunday´s rooster fights are near. You can experience this only in Philippines.
6. Best pool ever
On your trip to Philippines, you can not miss Anda town on Bohol and its resort Anda White Beach Resort. Sometimes on our trips we choose accomodation with outside pool (you never know, if there will be a red flag on the beach). And this pool was awesome. There are 9 beautiful bungallows, we chosen family one with 3 double beds. You will also receive welcome drink – 2 kg coconut. The staff was great – always smiling and willing to help. I injured my leg and the lifeguard immediatelly chew special tree leaves and attached it to my wound. The bleeding stopped in few minutes.
7. Bohol Chocolate hills
Don´t miss Chocolite Hills on Bohol island. Don´t worry, it is easy also for children. It will be harder if you meet group of asian tourists – they are taking pictures of ants, sky, leaves and for sure, they would like to take pictures with your children. And during this photoshoot, you can enjoy beautiful views of giant tears (legend of Chocolate hills).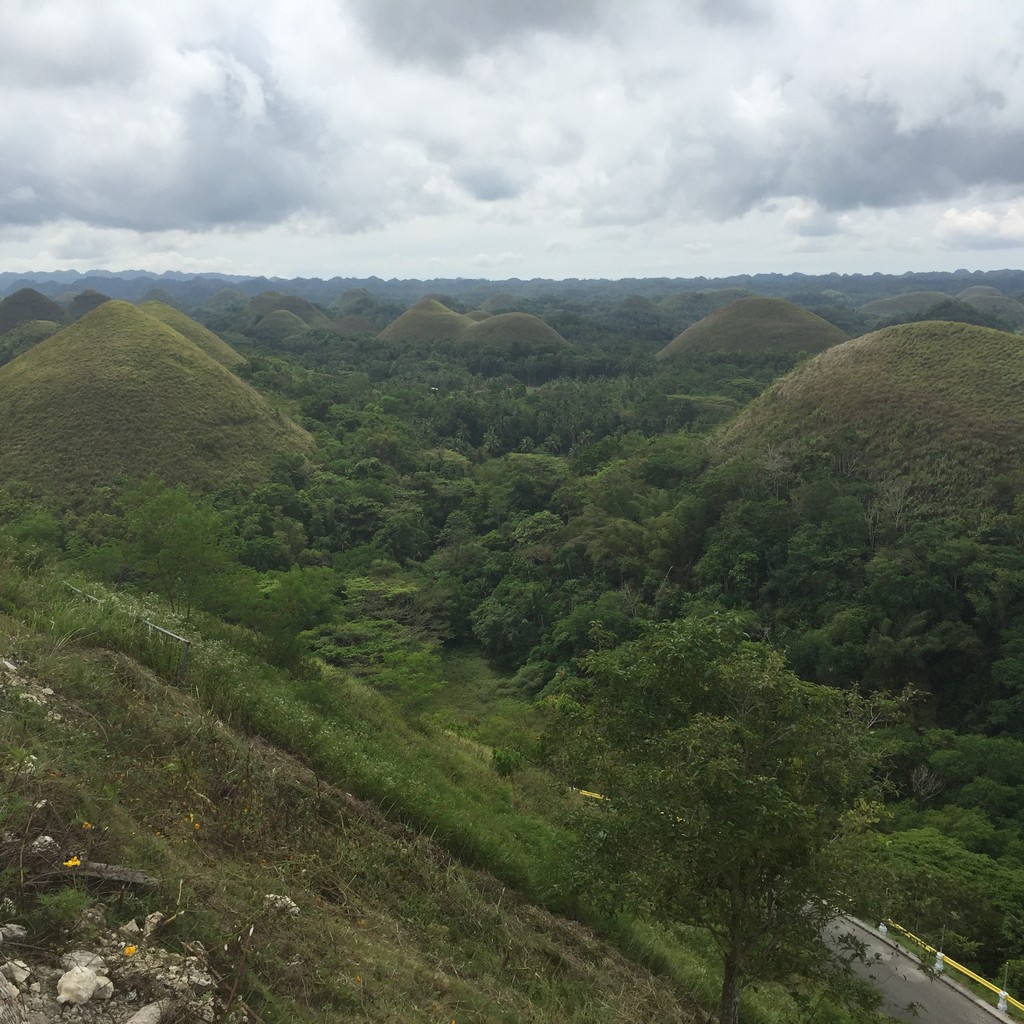 Chocolate hills, Philippines with kids
8. Tarsier – smallest primate in the world
On Bohol, you must go to see smallest primate in the world – Tarsier. There is a tarsier reservation in the heart of Bohol. Tarsier is a very small monkey with big eyes. In the reservation you have to be very quiet not to disturb these animals – they have to feel safe. You can buy souvenirs there – magnets, bracelets, … . Go there, pay the low entrance fee and support the reservation this way.
Small Tarsier, Philippines with kids
9. Starfish everywhere
Panglao is an island of thousands of starfish. Our kids spent more than 10 hours a day in the sea. They were looking for starfish on the shore and they moved them from shallow water to the deep sea.
10. Spiderboat
If you and your children would like to watch green sea turtles and dolphins, rent a spiderboat and ask your captain to take you there. On Panglao, there are many people offering these trips – bargain and choose which one you like. We have chosen spiderboat trip to Balicasag island and Virgin Island and it was great.
11. Finding Nemo on Balicasag island
Snorkelling is a favourite activity of our kids. They have full snorkelling equipment and it takes half of our luggage. On Balicasag island, you will receive also swimming vest. Before the snorkelling, local fishmen showed us how to clean a fish and they also offered some small shells to our kids. Snorkelling is not free here. The price was around 250-300 PHP/person, but you will have also swimming shoes included because the corals are very sharp. And the crucial information is – WE FOUND NEMO! So stop searching for him. In the sea, there is lot of turtles, starfish and also small jellyfish. You will see the beauty of underwater world here on Balicasag island so we recommend to go there.
12. Puka Beach waves
Most famous beach on Boracay island is White Beach. But there are another beautiful beaches – for example Puka Beach. Puka is known for strong waves, which is not ideal for swimming but it is lot of fun for you and your kids to jump to the waves. So do not miss this part of Boracay.
13. Airbus cockpit invitation
With kids you can get to places where usually people can not get. One of these places is cockpit of airplane. If you are the only family with kids onboard and if you are lucky and the pilot is nice, your kids can get invitation to the cockpit to make some really nice pictures. This happened to us and our kids really enjoyed it.
14. Tricycle accident
If you are dreaming about some more action in tricycle, choose only tricycle driver who is drunk. We never planned to have an accident but we did not notice that he was intoxicated.
He was unable to climb the hill with his tricycle and we went backwards right between the trees where we fell over. We were OK and we helped him to climb the hill. This is something you can experience only in Philippines!