10 things to do in Cambodia with kids
written by Marika & Michal, travel addicts, Slovakia
We are a family of 4 (children Michael 8 years and Matej 6 years of age) and we love to travel. We visited Cambodia in 2015 and we´d like to bring you 10 things to do in Cambodia with kids. We hope you will enjoy it and if you are interested, you can follow our steps to make max of your trip.
1. Night drive in Tuk-Tuk
One of the best experiences in Cambodia with Kids is visit of the capital city Phnom Penh and night drive in Tuk-Tuk. 2-hour long drive around the city center is only USD 5. During the drive you will feel the breeze and you will see the night city with its real beauty. You will see kings statues and you will experience unforgettable atmosphere of the capital city. If you are lucky enough, you will find a tuk-tuk driver who will allow your kids to drive the tuk-tuk. This also happened to us.
Your kids will love night drive in Tuk-Tuk
Phnom Penh, Cambodia with kids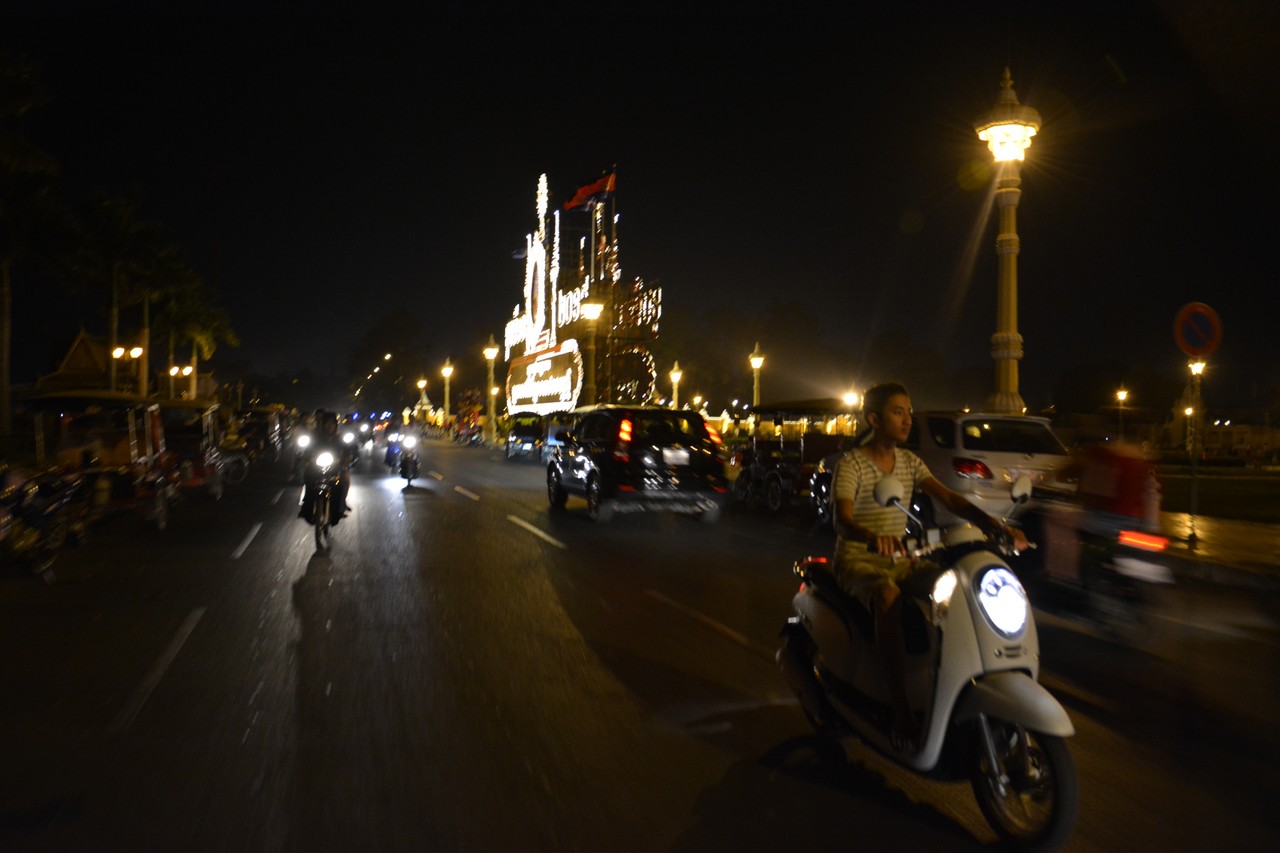 2. Traditional market in Phnom Penh
Don´t miss the traditional market. Only here you can experience real cambodian atmosphere on the local market. The market tis full of different fruits, vegetables, spices and also sorts we have never seen before. Locals buy everything here. Eggs, rice, frogs, chicken, pork, fish, crabs, shells. But forget about coolers! Don´t be surprised if you see the meat hanging around in 36 degrees of Celsius.
Watch out your feet! The streets between the stands are so narrow (sometimes less then 1 meter) and motorcycles are driving between them like crazy. Local people are very friendly and modest. You will be rewarded with kind smile if you buy bananas or oranges. Be prepared that with small children you will attract great interest in your family. And everybody will be interested in your children.
Phnom Penh, Cambodia with kids
"The world is a book, and those who do not travel read only one page."
3. Roof top pool with Mekong view
After a long hot day in capital city, you can relax in the evening on the hotel roof. Your kids will be thrilled with the diving in the rooftop pool. You can swim, sit in the jakuzzi or watch the mighty river Mekong full of alighators.
Rooftop pool in Phnom Penh
Harmony Hotel Phnom Penh, Cambodia with kids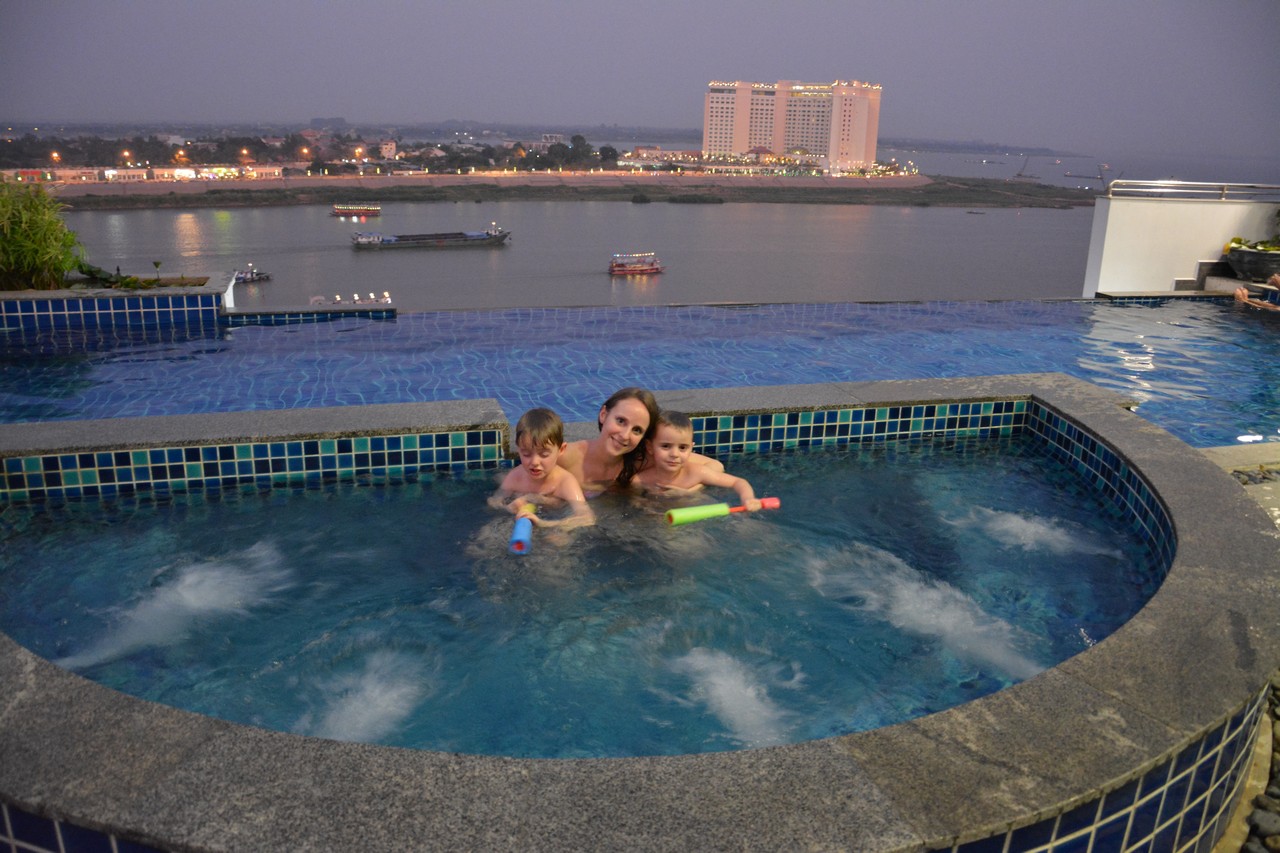 4. Koh Ron Samloem Island – uforgettable accomodation directly on the white beach.
Go there and you will be fascinated by one of the best beaches in the world. Just lay down and relax. The beach is almost empty. This small island offers lot of things. We have chosen Saracen Bay bungallows. Behind your bungallow, you can hear the pitfalls of the jungle all the night. The bay water is shallow and ideal for small children. No need to worry. Just sit down on your terrace and watch the sunset.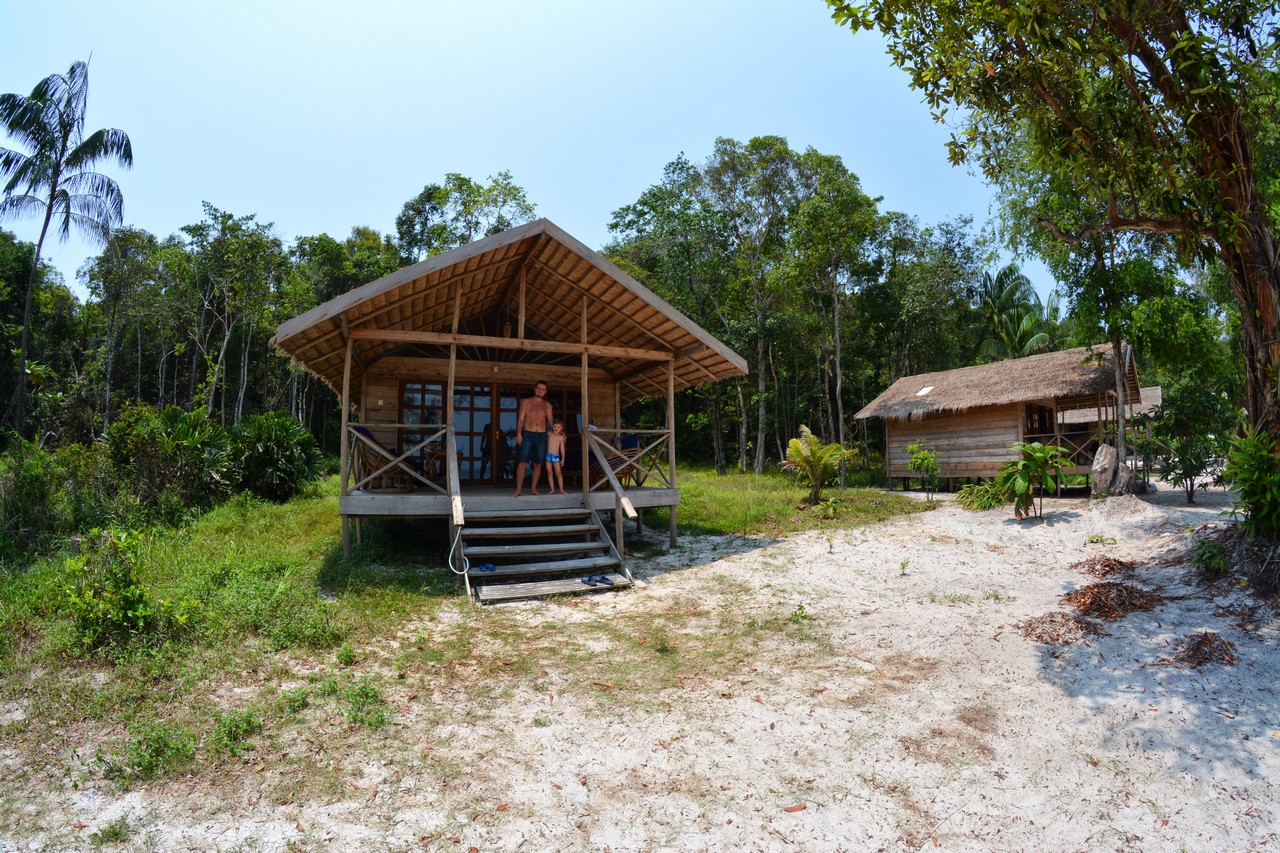 5. Best fried bananas in the world
We have eated fried bananas with different sauces so many times in almost each south east Asian country. But the best with cocoa or chocolate sauce we found here on Koh Rong Samloem in the restaurant on the reef which belongs to Saracen Bay Resort. The kids will enjoy it and right after the meal they can jump to the sea again.
Fried bananas – best in the world
Koh Rong Samloem island, Cambodia with kids
6. Crabs, thousands of crabs
It´s 11 a.m., lunch time and like every day, interesting things happen on the beach. All around you are growing small sand hills. Thousands of small crabs are showing on the white sand. We have not seen this anywhere in the world only on this small island.
Saracen Bay, Koh Rong Samloem, Cambodia with kids
7. Otres beach horse ride during sunset
Which child would not be delighted by horse ride? And directly on the beach? But if your children are tired after long day in the sea (like ours), they will be happy just to watch the horses on the beach during sunset 🙂
Otres beach, Sihanoukville, Cambodia with kids
8. Fun with local children on Serendipity beach in Sihanoukville
If your children look bit different than local ones, for sure they will not have problems to find new friends. On this beach local children sell bracelets, souvenirs which you should not refuse. Our boys have chosen the ones with the skulls and after the arrival back home, they were treated like kings 🙂
Serendipity beach, Sihanoukville, Cambodia with kids
You don´t have to speak the same language to be able to communicate
Serendipity Beach, Sihanoukville, Cambodia with kids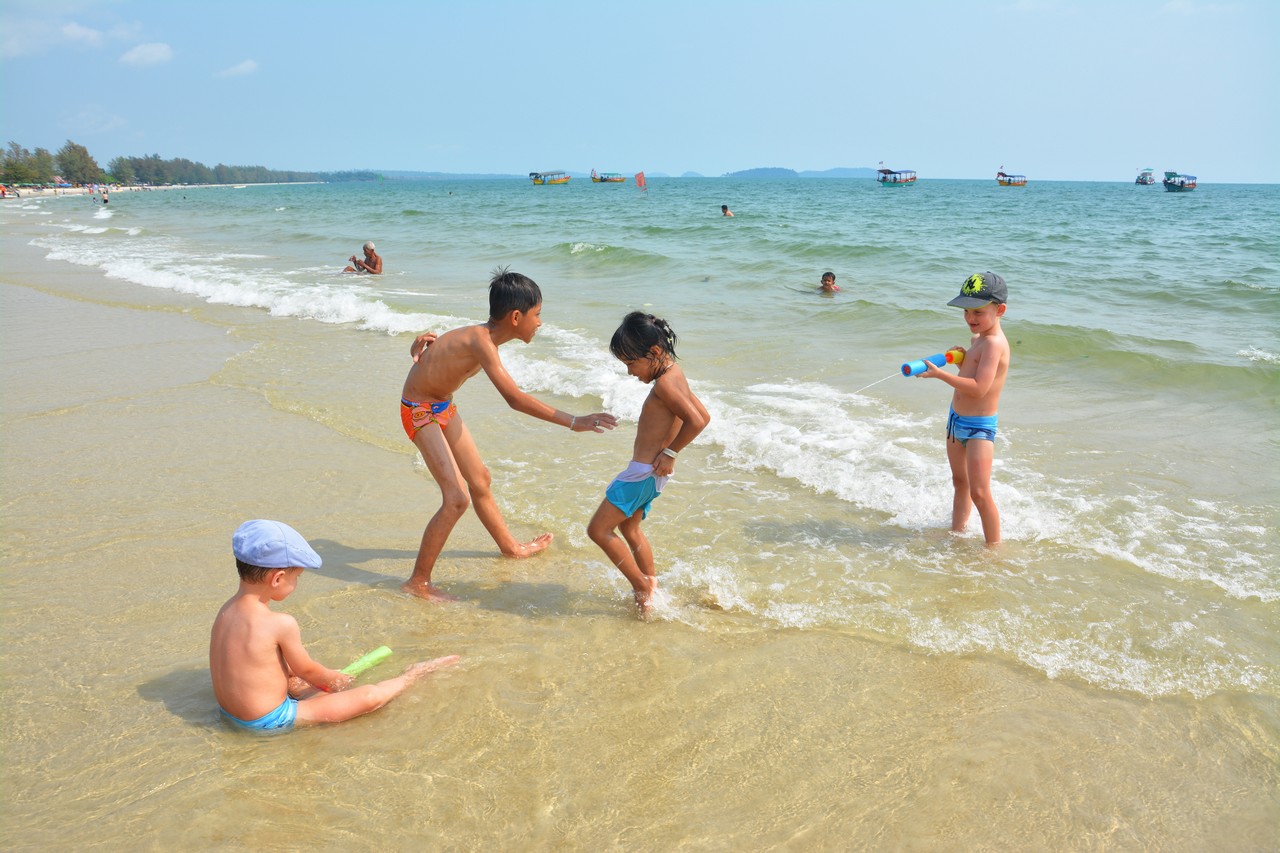 9. Spiderville (Skuon) – you can play with Tarantula spiders
If your kids are at least as brave as ours, do not avoid this small town. The local market was one of the best experiences on our long trip to Cambodia. We not only played with spiders, but we alsto TASTED them. Here you can find women with big plates on their heads full of deep fried spiders (tarantula). There are bins with hundreds of alive spiders all around. Your children may not even be brave and even curious, but it is very hard to avoid the games with live spiders. You can also see frogs (also fried ready to taste it), bats and many more animals. The teachers in kindergarten did not even want to believe them when our boys talked about this.
10. Fresh lunch grilled directly on the beach next to your sunbed
The lunch time is here and you are thinking about what to taste. The local woman steps in with the stick over her shoulder – one side is with grill, second side with small fridge, small chair, plates, spices … impossible? In Cambodia, everything is possible. In few minutes you can taste fresh fried sephias for USD 1.
More posts to come
we were also in Philippines